Happy Science is always expanding its activities so that happiness grows further.
At Happy Science regular seminars, workshops and events are offered to help us solve our daily problems and realize happiness; Guided meditation, contemplation & self-reflection are also conducted to inspire peace and serenity within. In addition, special structured study curriculum in three levels "Essence of Happy Science" is offered for our friendship members. Please refer to our calendar of events for more details.
Here are a few examples of the activities that we do worldwide:

Attend seminars and events
Each year we hold seminars and special events for people to come together to make friends, polish their souls and re-energize themselves again with light. There are many kinds of seminars on different themes such as love, success or reflection. There are also regular events such as movie showings.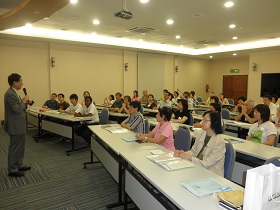 Publication activities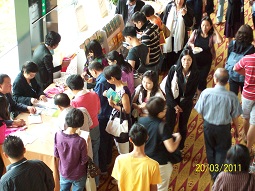 Happy Science places great importance on sharing these teachings with all people, in as many languages as possible. It is essential that everyone is given the opportunity to read, study and practice these precious teachings within this lifetime: just a single word of wisdom can lead someone on their way to happiness. Therefore, we hold many publication activities regularly throughout the year to bring awareness to Master Ryuho Okawa and the teachings of Happy Science.

Visiting temples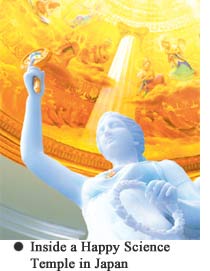 Happy Science temples are always praised for being places of warmth, beauty and serenity, with a positive atmosphere that supports people's spiritual well-being and happiness. Your local temple is like a light-house shining light in your area. Members and non-members are always welcome to come to study the books, watch the latest video lectures, meditate, pray or just for an uplifting chat with friends.

Charity, community service and support
Life is full of suffering and hardships. Happy Science is always seeking ways to help alleviate these problems through the power of Truth. For example, we have been conducting Friends Preventing Suicides Campaigns to inform the public about the dangers of suicide from a spiritual perspective. There are also Anti-Bullying Campaigns to deal with the rise of problems at school. Also, we regularly offer public relief during natural disasters. Recently, we helped to renovate a school that was devastated by the tsunami in 2004, and donated thousands of books to the students of China affected by the disastrous earthquake that struck. Happy Science is also passionate about supporting the youth. There is The Golden Age Scholarship to help students financially, so that they can nurture their talents and contribute to a happier world.