About Ryuho Okawa | Teachings and Quotations | His Vision
About Us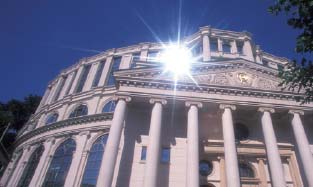 Happy Science was originally established in Tokyo, Japan in 1986 but has now grown into an international organization with more than 20 main temples and 300 branches all over the world.
In a world full of inter-religious conflicts and misunderstandings Happy Science hopes to unite and create a 'Utopia' or world filled with true understanding, peace, harmony and happiness.
We achieve this by helping people all over the world awaken to their True Nature Within and attain true happiness by studying and practicing the teachings of Love & Enlightenment.
At Happy Science, we have a vast collection of books, video lectures, movies and structured study programmes based on the Truth taught by Master Ryuho Okawa.
This Truth encompasses all areas of life including the Laws of Happiness, The Laws of the Mind & Enlightenment, and Universal Truth about the Spiritual World, Multi-dimensional Universe and Purpose of Life.
Worldwide seminars, workshops and events are regularly offered to help us solve our daily problems and realize happiness; Guided meditation, contemplation & self-reflection are also conducted which has inspired and helped thousands all over the world live life with true meaning and find peace of mind and serenity within.
All the activities at Happy Science are done to help as many people as possible realize success in life and true happiness; a happiness which carries from this world through to the next. By building a wonderful life, we spread our happiness to those around us and to society.
We hope to join hands and support each other to create a Revolution of Happiness in all parts of the world; an age of prosperity & peace where all people live in friendship and love.
Master Ryuho Okawa, founder of Happy Science, has devoted his life to the exploration of Truth and finding ways to bring happiness to people all over the world.

He was born on July 7th, 1956 in Tokushima, Japan. After graduating from the prestigious University of Tokyo, he joined a Tokyo-based trading house. While working at its New York headquarters, he studied finance at the Graduate Center of the City University of New York.

On March 23rd, 1981, he awakened to the hidden part of his consciousness, El Cantare. Through the enlightenment he attained, he gained a complete understanding of the Universal truth about the Mind, the Universe & Human History and awakened to his mission to bring happiness to all humanity.

In October 1986, he established Happy Science which has since grown into a worldwide organization with more than 20 main temples and more than 300 branches all over the world. Since then he has been giving lectures all over the world and designing spiritual workshops for people from all walks of life.

Currently, Master Okawa has published over 700 books, including The Laws of the Sun.

Over the past years, his books have become best-sellers every year in Japan. Master Okawa is also the producer of more than 5 movies which have been screened in cinemas all over Japan; some of which have become box-office hits.
Ryuho Okawa: Teachings and Quotations

"Love is based on the understanding that you and others are not separate but essentially one, when you love others, it means you love God or Buddha himself." from The Origin of Love by Ryuho Okawa

"The very presence of other people is in itself love. Without others, we cannot improve or make progress, nor can we experience true happiness..." from The origin of Love by Ryuho Okawa

"Love is to give. Love is to forgive. Love does not speak ill of others . You must love beyond the difference of all religions, all nations, and all races. You are originally one..." from Happy Attitude, lecture on March 23rd 2008, Los Angeles Local Temple

"I want to tell you about Happy Science. It means how to be happy. We teach people how to be happy or how we can make other people happy and the method of creating happiness." from What is Happy Science? in Japan
What Is His Vision? Back To Top